We approve, as down Oscar Stewart of your wonderful saddles, Bliss of London – Saddle makers of Distinction
Alastair Stewart – Hampshire, UK January 2015
My new Paramour saddle fits like a glove, Alphaville has more shoulder freedom and the seat is like a chair giving me great support!"
Frank Hosmar, Paralympic Medalist, The Netherlands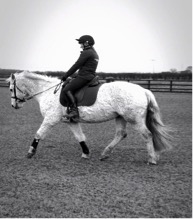 The Saddle Fitters Choice
Working as an Independent Saddle Fitter at North Yorkshire Saddles has given me the opportunity to work with a variety of leading brand saddles, which has helped in my quest for a Monoflap Dressage Saddle.
In the past, I have struggled to find a saddle that works well for both my pony and I. Echo is a American Bashkir Curly, whose conformation and breeding is not often seen in the UK.
After trying a multitude of different saddles on him, I concluded that Bliss of London's Hoop Tree worked particularly well with his conformation.
The saddles from both the Bliss and Loxley ranges are beautifully made, and offer a vast range of custom fitting and aesthetic options, allowing me to have a saddle that suits both my taste, and Echo's fitting requirements.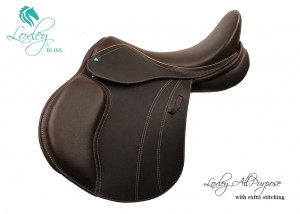 In fact, I'm so pleased with the fit, performance and look of my dressage saddle, that I now own a Loxley AP too.
Sarah – North Yorkshire Saddles – February 2016
Please could you pass on how delighted I am with my Loxley mono flap. I made a monumental mistake when ordering and overlooked the material in which it is made. The workshop and everyone in the office were incredibly patient in changing the calf nappa. Cannot thank you enough as this was entirely my error.
I would also like to say how impressed I am with Joanne Breese' work and professionalism. She was meticulous in measuring both me and my mare and I could not be happier in the way my horse now goes under saddle.
Thank you!
Lorna
It was quite amazing to feel the difference in how he (Hap) moved and how I could feel so much more contact through my leg. One of the things I love about Bliss is how you can customize the tree and the saddle to the horse as well as to the rider. I am very petite and always have problems with saddles that don't fit me correctly. In the past, I would just sacrifice my comfort in a saddle as long as it was right for my horse and made him happy. But now with Bliss I can have both!
Tiffani Loudon-Meetze, 4* Event rider, SC, USA
What a great afternoon of training with Daryll Thicket Dressage. Four lessons later, I feel like I've had quite a workout! But how amazing does Bommel look in his Schokemohle orange gear and loving his Bliss of London – Saddle Makers of Distinction saddle.
Sarah Payne – Lincs, UK, February 2015
Seems to be working for Oscar Stewart in Spain! His saddle looks stunning x
Clementine Stewart, March 2015
Guadalupano loves hiss Bliss of London saddle! Here he is competing in Wellington at FEI Prix St Georges.
Allegra Hohm – Canada March 2015
Love Love Love my Loxley seriously comfy and close contact. Fabulous leather. Soooo happy.
Lauren Dodgshen – February 2015
Love my Loxley!
Brenda Sestrap
Perfect fit for horse and rider!
Sanne Lampers, The Netherlands
Stunning saddles, put together perfectly by people who really do care. Equissential is thrilled to be able to offer your saddles to clients and we look forward to ordering then next one!
Sammy Leahy – Isle of Man, UK February 2015
We have it and love it!
The first Loxley Bliss saddle arrived in New Zealand. A Loxley jump LX model. Sam is thrilled with the performance it gave last weekend at the Woodpile Premier Showjumping.
Rachel Gradowski – New Zealand, February 2015
Quality and beautiful saddles
Sharon Cassidy
Truly Extraordinary Saddles! Comfort for horse and rider! Thank you for all your effort in to our fabulous saddles, can't wait for my next one!!!
Kimberly Chastain
We approve, as down Oscar Stewart of your wonderful saddles, Bliss of London – Saddle makers of Distinction
Alastair Stewart – Hampshire, UK January 2015
Mango in his Loxley dressage saddle today, maintaining his unbeaten BD record by winning two classes including his first Novice. He says he can't wait for his new jumping saddle to come, he wants to get out of the arena and do something fun


Becca Hart – Notts, UK January 2015
I would like to share my new Bliss saddle brought for me by my lovely other half. After some back and saddle issues the new saddle must be perfect as on Saturday my boy came second in the discovery and first in the newcomers with 4 lovely clear rounds. Thank you Bliss
Natalie Smith – UK December 2014
Amazing session Saddle Fitting my new horse – Essentially Beowulf this morning. !! Love Bliss Saddles – my position has improved so much since riding in my sponsored saddle!! Now looking forward to receiving my new saddle!!
Emma Sheardown Dressage – December 2014
Class saddles from a class company. 1st choice every time. Nothing is too much. Could not recommend enough.
Anna de Verteuil, Bucks, UK December 2014
If you need to buy a saddle, this is the company to do it with! They not only make fantastic saddles, but have incredible customer service and they stand behind their product 110%
Laura Blain – Alberta, Canada December 2014
Seriously excited about finally ordering myself a new Bliss jump saddle. A huge thank you to Rob Biddlecombe who has been so patient and helpful over the last few months of making my mind up (I may be one of most indecisive people going!) even lending me his own Bliss to jump in at Scope and in between as there were problems with my horses saddle. Highly recommend both Rob as a saddler and Bliss for anyone recommend both Rob as a saddler and Bliss for anyone looking for a jump saddle that is also comfortable enough to ride in all the time. Can't wait for it to arrive – with Rob Biddlecombe.
Natalie Smith – November 4th 2014
Had yet another outstanding and positive customer service experience with this company in regards to my dressage saddle. I did not know customer service like this still existed! LOVE my Loxley dressage saddle, and love the customer satisfaction standards of this company!
Laura Blain – Alberta, Canada November 2014
Can't wait to order another and come up with another dreamy combination that will be put together so beautifully.
Amyanne South – Isle of Man
Fabulous saddles, Fantastic saddle-fitting, great customer service. The saddles help the rider to sit in great balance while allowing a close contact feel and freedom. The horses are obviously comfortable when fitted with a Bliss saddle as they move freely and show great willingness to work.
Bert Sheffield – November 2013
My brand new Loxley saddle! Amazing!!!
Laure Milard
"Patty is a wonderful fitter and I can really notice a difference when she works on the saddles. I've worked with other brands of saddles but all have them have been foam flocked — I can really see and feel what a difference the wool flocking is making in my horses movement.
My 4* horse, Sir Donovan, is quite long backed and struggles with back soreness. Since I began using the Bliss saddles he is noticeably more comfortable and I find myself needing to do less and less maintenance on his back (robaxin, meso, etc). The saddles are lovely."
Katie Ruppel, 4* Event rider, FL, USA
It was quite amazing to feel the difference in how he (Hap) moved and how I could feel so much more contact through my leg. One of the things I love about Bliss is how you can customize the tree and the saddle to the horse as well as to the rider. I am very petite and always have problems with saddles that don't fit me correctly. In the past, I would just sacrifice my comfort in a saddle as long as it was right for my horse and made him happy. But now with Bliss I can have both!
Tiffani Loudon-Meetze, 4* Event rider, SC, USA
I absolutely love the Liberty dressage saddle! It is the best dressage saddle I've sat in! And my horse loves it! "Dressage is not easy for my event horse but the way this saddle fits him he thinks he's a dressage horse! And seems to enjoy the work! And to top it off the beautiful craftsmanship, the perfect balance in the seat and blocks make this the best dressage saddle on the market!"
Darrah Alexander, NY, USA
Today I had the first opportunity to try my saddle (Paramour Dressage) on DaCapo and ride him. My trainer also rode him and for the 3 of us, Jane's words describe our feelings: Ahhhhhhhhhhhh! It is gorgeous and feels even better. Again thanks for the speed and so accurate to our dimensions most FABULOUS saddle. I can't believe after all these years, I finally have a saddle that fits me AND my horse, Thank you!! – Fitter by Tiger Adams, Horse in Sport.
Faith Shields, CO, USA 2013
I absolutely love my saddle, it matches my cross country colours! It's an amazing saddle and finally my horse has a saddle that fits him
– he loves it too!
Alyssa Ford, USA 2013
Working with Bliss of London was a great experience, you get such a personal service. Choosing the fine detail was great fun and I LOVE the diamantes on the back, it looks amazing. It is so comfortable and my first competition using it I won twice so I'd say my horse also loves it! – Thank you Bliss of London
CDV – Buckinghamshire, England
I love my Bliss saddle because it was personally designed to fit myself and my horse. It especially helps my seat and legs to stay in the correct position when jumping.
When I am at a show I get many comments on its look and individuality – I really like the way the diamantes sparkle in the sunlight.
ID – Buckinghamshire, England