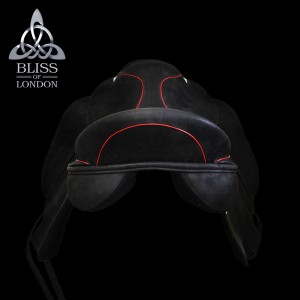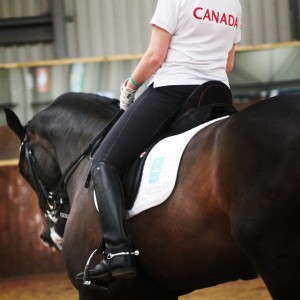 Why I Chose a Bliss of London Saddle, or Two!
For me, my saddle is a very personal thing. I am very loyal to my saddles and I spend a huge amount of time in and around them. As they are the gateway to communication with my horses when I am riding, both of us have to have our needs met for us to perform at our best.
When my top horse, Wonderboy, matured and changed shape, his previously well-fitting saddle stopped working for him. His back muscles have broadened out from under the stirrup bars through the back of the saddle – there was nothing for it, he had to have a new saddle!
As a rider who has ridden many different horses, I have ridden on many of the leading brands and I had a fair idea of what I like and what I really can't stand to ride on. I trawled the internet, looking for something that would suit Wonderboy's wide back and my need for support but a close, narrow feel. I had saddlers out to fit him, I tried saddles from the internet, wasting time while my chiropractor moaned at me that his saddle was damaging his muscles.
Then, one fortunate day, I came across Bliss of London saddles! I emailed Nikki for information, as it seemed to me that the only way forward would be a custom-made saddle as most modern saddles have the same width to the back of the tree regardless of the front measurement. Nikki reassured me that it should be possible to match my requirements with the horse's comfort.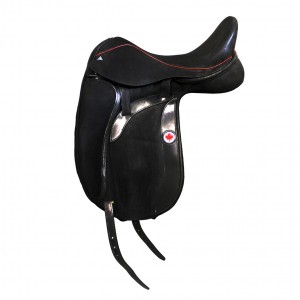 She came out to me with all the Bliss dressage models in a variety of sizes. We spent a long time, seeing which tree shapes fitted Wondeboy best and which blocks, leathers and seats worked for me. It was the Paramour dressage, covered in nubuck, that seemed to be the best so I rode Wonderboy in that for the rest of his work session that day – he did the most enormous spook/ handstand combo and neither me nor the saddle moved an inch – SOLD! I was so comfortable and balanced that I forgot about the saddle and just rode, proof that it was perfect for me.
Back in the yard, Nikki took great pains to measure Wonderboy carefully so that the perfect tree could be used for his saddle, noting what gussets and panel shapes he would want, whether serge or leather covering would suit his back better. Then, over a cup of coffee we worked out the personalised shape to the thigh blocks for me and some of the finishing touches. Nikki and I agreed on a Maple leaf behind my leg and a fine red line around the seat and back of the cantle. A couple of weeks later, and my saddle arrived. It is beautiful! Nikki came out and checked the fit, which was spot on. The nubuck covering gives great security and meant that it did not need that awkward breaking-in period. I have been using that saddle since April this year, I have been around Europe competing with it and it has been fantastic. I am sure it has played a massive part in our great results – Wonderboy and I are cur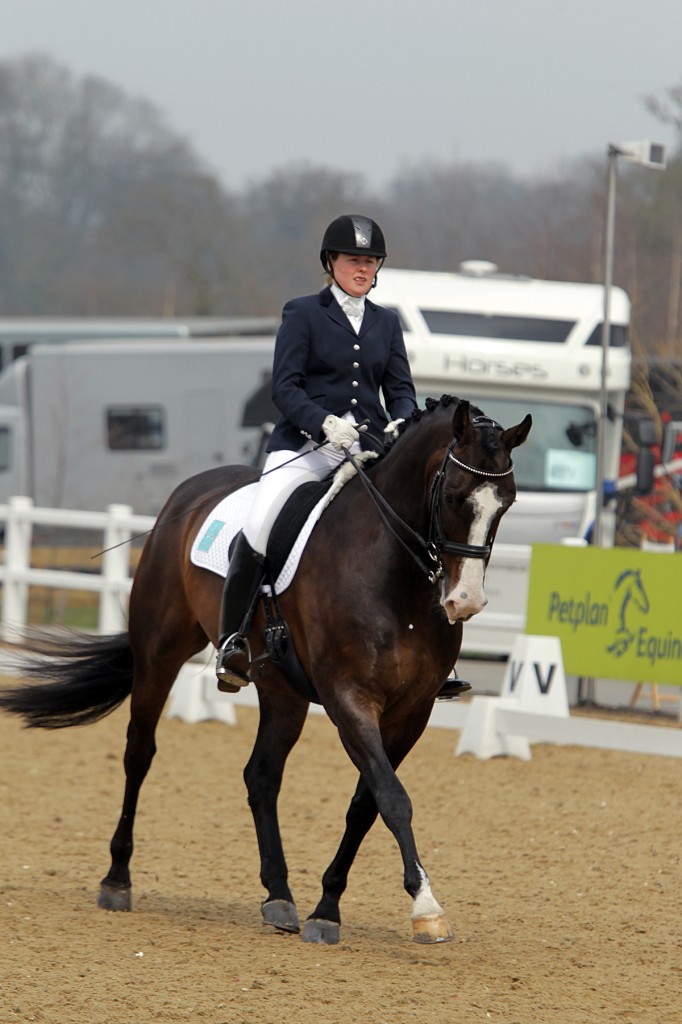 rently 9th in the FEI World Rankings!
In fact, my saddle has been such a success that I bought a second one, custom-made to fit my up-and-coming horse, Double Agent. She has improved so much since having her own saddle; greater freedom of movement and willingness to work. I whole-heartedly recommend Bliss of London saddles for their wonderful attention to detail, both in the fit for horse and rider and the aesthetics. One of life's strange things is that when a saddle fits this well, you don't notice it- you just ride the horse and feel the harmony.
Back