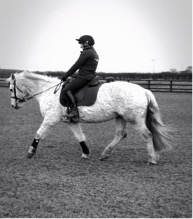 The Saddle Fitters Choice
Working as an Independent Saddle Fitter at North Yorkshire Saddles has given me the opportunity to work with a variety of leading brand saddles, which has helped in my quest for a Monoflap Dressage Saddle.
In the past, I have struggled to find a saddle that works well for both my pony and I. Echo is a American Bashkir Curly, whose conformation and breeding is not often seen in the UK.
After trying a multitude of different saddles on him, I concluded that Bliss of London's Hoop Tree worked particularly well with his conformation.
The saddles from both the Bliss and Loxley ranges are beautifully made, and offer a vast range of custom fitting and aesthetic options, allowing me to have a saddle that suits both my taste, and Echo's fitting requirements.
In fact, I'm so pleased with the fit, performance and look of my dressage saddle, that I now own a Loxley AP too.
Sarah – North Yorkshire Saddles
Back