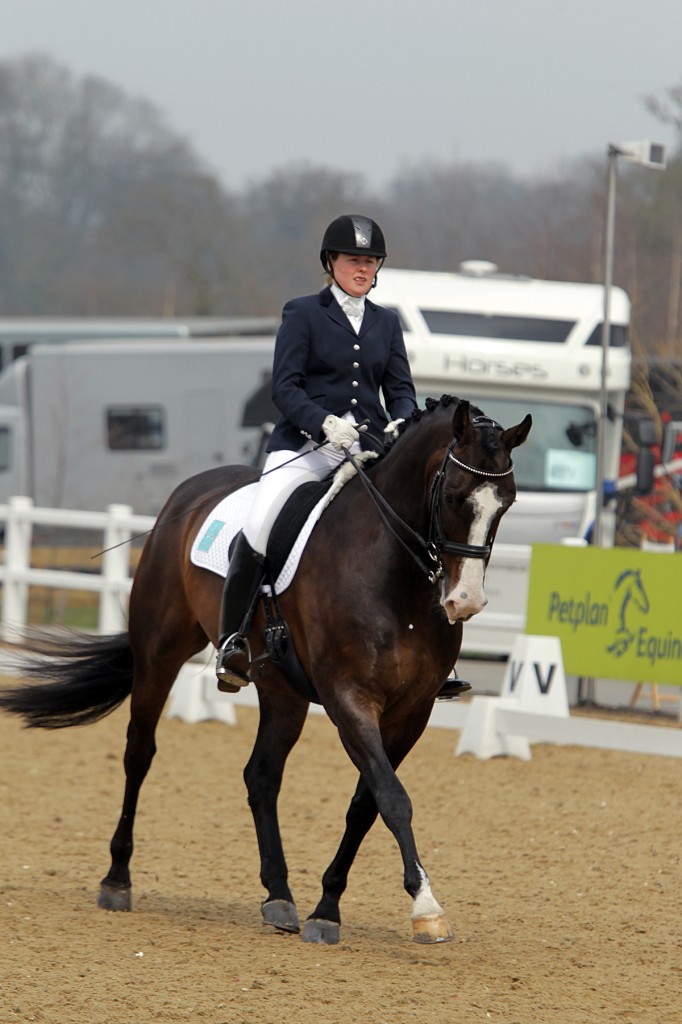 We are thrilled to welcome on board as part of our Sponsored riders team Canadian Para Team Rider – Bert (Roberta)
Sheffield and her fabulous horse Wonderboy (Whoop).
Bert was having saddle "issues" with her existing saddle and felt it was time to look for a new saddle that would be comfortable for Whoop but help with her own position and contact – The Paramour Dressage was in instant success for both!
Bert is a Canadian International Grade 3 Para-Equestrian dressage rider and also competes in able-bodied British Dressage competitions, qualifying for the Winter Regional Championships at Medium level with Wonderboy. Based in Lincolnshire, she started competing internationally, originally for Team GBR, but having dual nationality from birth, changed sporting nationality to Canada and be part of their vibrant, up and coming squad. "I am so excited about the opportunities in the future, especially the chance of representing my country at the World Equestrian Games 2014 and, fingers crossed, Rio Paralympics 2016."
Berts own story: "I have always loved dressage and training horses. After studying at Aston University, Birmingham, I worked for Gareth Hughes at Aspen Grove Dressage as a BD apprentice for nearly 2 years. I took my little Welsh Cob, Calerux Cosmonaut with me. It was Gareth who suggested I try my hand at Para Dressage. In 2006, we were invited to the Para team selection trials and got through to the final selection stage for the World Class Potential programme. Gareth gave me a terrific education and I owe him a great deal for the opportunities he gave me.
While I was there, the chance came up to train with the legendary Arthur Kottas-Heldenburg, formerly Chief Rider at the Spanish Riding School. I trained with Arthur for 3 years, every time he came over. He has stopped coming over now so I started to train with Conrad Schumacher. Conrad has trained just about all the major Olympic dressage nations' teams. Last year, I started to train with Dutch Olympian, Ellen Bontje. The continued help from Gareth along with Ellen and Conrad is, I believe, the way for me to develop.
I have Rheumatoid Arthritis in all my limb joints and my neck, shoulders and jaw. This started when I was 15 and has progressed through my body. Although RA is painful and makes life awkward it has given me the opportunity to compete in top level Para competition. Riding gives me tremendous freedom from my condition. I use straps from the stirrups to the girth, to stabilise my lower legs and bobbles on the reins to help me grip. I take Anti-TNF medication and painkillers and also have regular chiropractic treatment to help keep my body working evenly."Bert is a great ambassador for the sport and has tremendous drive to succeed. We are very much looking forward to working with her over the next few years and hopefully onto Rio 2016.
Achievements and Credentials:
Former Member of the BEF Excel Talent Programme
Selected for Lincolnshire Elite Athlete Programme 2013
1st Bishop Burton CPEDI 2* Freestyle 74.2%
1st Bishop Burton CPEDI 2* Team test 70%
2nd BD National Championships KBIS 2012
3rd BD National Championships KBIS 2011
Winter Restricted National Champion 2011
Trained by Gareth Hughes, Conrad Schumacher and Ellen Bontje
Top Horse- Wonderboy (Whoopi)
Young horse- Double Agent (Darcy)
Back