Bliss of London is pleased to announce that it is an Official Corporate Sponsor of the www.rk3de.org Rolex Kentucky Three Day Event in the USA, which takes place from 26-29 April 2012.
The www.rk3de.org Rolex Kentucky is a CCI**** eventing competition and the prestigious event showcases the sport's highest level of competition. Its title sponsor is Rolex watches, a brand synonymous with equestrianism and stylish, aspirational lifestyles.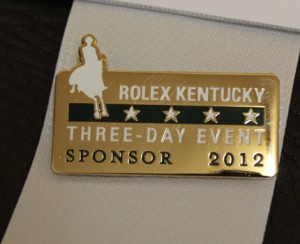 "We love visiting the Kentucky Horse Park in Lexington, where the event is held – it is the home of equestrianism in the Western Hemisphere," says Nikki Newcombe, Managing Director at Bliss of London. "The Rolex is one of only six four-star three day events held throughout the world each year – so the event represents the pinnacle of eventing particularly this year in the buildup to London 2012.
"At Bliss, we enjoy showcasing the sense of harmony between horse and ride and look forward to showcasing our saddle designs to customers at Lexington."
2012 is the first year that Bliss has become a sponsor of the www.rk3de.org Rolex Kentucky, and the team looks forward to meeting professional riders and existing customers, and networking with its associate saddle fitters in America. With the event having over two million TV viewers in the states, and a quarter of a million more people watching it online, this exciting new sponsorship deal represents a very worthwhile association for Bliss, with its international appeal and world-wide customer-base.
For more information on the event visit www.rk3de.org
Back