SK SADDLEFIT – is owned and operated by professional saddle fitter Sara Kilguss. She routinely visits with equestrians across Vermont, New Hampshire, Maine and beyond to offer her superior saddle products and saddle fitting expertise.
A lifelong horsewoman. Raised in south eastern MA she had horses at home from an early age. As a young adult, she was an active and successful event rider. She has competed thru the CCI ** level and was a member of the 1992 gold medal winning area 1 young riders team with the second highest placed finish on that team. She has competed at all the big events up and down the east coast, including but not limited to: Rocking Horse Farm, North Georgia, Millbrook, Ledyard, Fair Hill, Radnor, GMHA, Groton House, Fitch's Corner, etc.
Sara owns and runs her own barn in South Reading, VT with her husband, their dog, a cat, three horses and a donkey. She has a 10 yr old TB gelding, Oskar whom she rides with Allison Springer and a promising young Holsteiner, Chatzi who is going to be unstoppable!
Sara is an excellent craftsman with a great eye for detail. This, combined with her extensive teaching, training and riding experience brings her much success as a saddle fitter.
Contact: Sara Kilguss Tel: (401) 4197304 sara@sksaddlefit.com www.sksaddlefit.com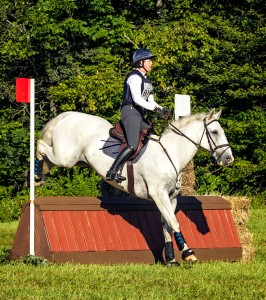 Back