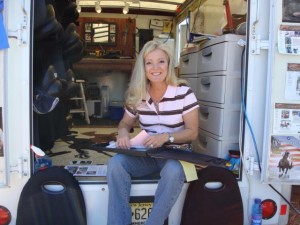 The craftsmanship we offer is equally as important as the knowledge and expertise in saddle fitting that you desire. So we would like to extend a warm welcome to Sarah Boothe owner of Saddle CPR
Now representing Bliss of London in California, USA. Contact her on 805 757 4739
"Horses have been part of my life for 41 years and I am so very lucky to work with something I truly love. From watching lessons with Olympic trainers to helping a youth with their first pony, I get to help both horse and rider be at their best. I don't have "customers" you are all "clients"."
Why is it important to have a professional saddler check the fit of your saddle? Also why is it important to have a custom saddle made?
I can answer both of these questions with the same example: If you are a marathon runner and you arrive at the race without your shoes can you run in mine? Maybe but not very well. Horses are athlete's and they need a saddle that fits properly. As a rider you need the correct seat size, flap length and balance of the saddle so you can be at your best.
My clients know that I stand behind my work and Your satisfaction is #1 with me.
Sarah is authorized to service repair and do warranty work and also does repair and adjustments on other premium brand saddles. My service areas are from Pebble Beach, California to Palos Verdes, California to the south. I cover: Moorpark, Malibu, Pasadena, Flintridge, Los Angeles, Santa Barbara, Somis, Santa Clarita, Fresno, Carmel, Bakersfield, Bishop, Hawaii and Las Vegas, Nevada.
Back