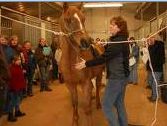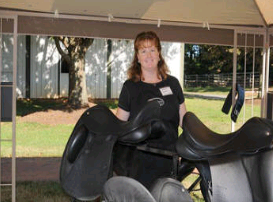 The craftsmanship we offer is equally as important as the knowledge and expertise in saddle fitting that you desire.
So we would like to extend a warm welcome to Nancy Bardy owner of Harmony Saddle Fitting and Repair
Now representing Bliss of London in Georgia, USA. Contact her on 770-714-1455
Nancy started out like most young riders on a stubborn little pony. Her life with horses brought her to many different disciplines, gaited horses, western pleasure, reining, team roping, and hunters to name a few. It wasn't until 1998 when she decided to learn more about saddle fit that she really found her passion. Originally trained by Albion she continued to work on and evaluate any saddle she could; knowing that each horse and rider combination offered a new challenge. Nancy has shadowed many of the top saddlers and saddle fitters. She is always open to new ideas, designs and technology.
Nancy lives on a small farm in Social Circle, GA with her husband and three children. She has an Oldenburg gelding (one of the toughest
saddle fit cases she's ever come across ) that she schools in dressage. Having her own horse, saddle and training issues everyday helps Nancy understand and relate to her clients.
Nancy has been saddle fitting for more than 12 years now in the Atlanta area. Her reputation for honest evaluation and understanding of the
riders and horses needs is unsurpassed. Nancy has worked with many top saddlers in the industry and continues to learn and develop her craft to keep up with the latest that the industry has to offer. She approaches each horse and rider combination with an open and objective mind, knowing that all combinations are different and can have very specific individual needs.
All fittings and evaluations are done at your farm. Nancy has a trailer that contains her workshop so all work can be done on site. She also carries an ever changing variety of used and new saddles, and works closely with many saddle makers and tack stores. Her main goal is a well fitted horse and a comfortable rider!
Nancy loves to do group talks and demonstrations – book one today for your group
"I learned so much" "Wow, Nancy made it easy for all to understand" "I never knew there were so many factors in saddle fit!"
Harmony Saddle Fitting is proud to offer:
•Onsite evaluations of any brand of saddle
•Help understanding saddle brands, designs and options
•Wither tracing
•Spot flocking
•Tree adjustments
•Dynamic analysis of horse and rider
•Muscular evaluation of the horses back
•Help understanding asymmetry
•Suggestions on padding
Now representing Bliss of London in Georgia, USA. Contact her on 770-714-1455 – call her for a test ride.
Back