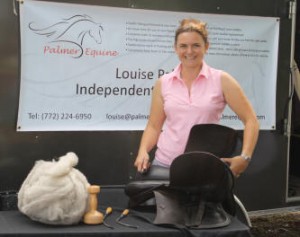 The craftsmanship we offer is equally as important as the knowledge and expertise in saddle fitting that you desire.
So we would like to extend a warm welcome to:
Louise Palmer from Palmer Equine
Now representing Bliss of London in Florida. Contact her on 772-224 6950 www.palmerequine.com
Louise Palmer is an independent Saddle fitter, covering Florida. Being independent Louise does not work with any one brand, so can provide you with a completely un-bias opinion on your current saddle fit, or provide advice on the correct brand, style and type of saddle that will suit both your horse and you the rider. The aim is not to sell you a saddle but to try and make sure that the saddle you are currently using is fitting both you and your horse well, but failing that Louise can provide information on the correct saddle for you both.
Louise Palmer has grown up around horses, born in Wales, UK, she was born into a thriving stud farm, which produced Welsh Ponies, and later
Show Hunters and now Performance Paints and Palominos. The farm continues to thrive and do well with the progeny currently winning at the Royal International Show and the Royal Welsh. Louise came up through the ranks in Pony club, being on the team for most of the sports including Prince Phillip Cup Games and even in University she was in the University Riding Team. Now Louise competes in a variety of disciplines from Dressage, Jumpers and Eventing, as well as a whip for Palm Beach Hounds, Fox hunt.
Since moving to America, Louise has been training and breaking young horses and struggled to find saddle fitters in Florida that were not associated with a brand. Louise is trained by Mike Scott (www.saddleguy.com) who she would consider one of the best saddle fitters in the USA. Louise is an independent saddle fitter, covering all of Florida, all year round.
Back