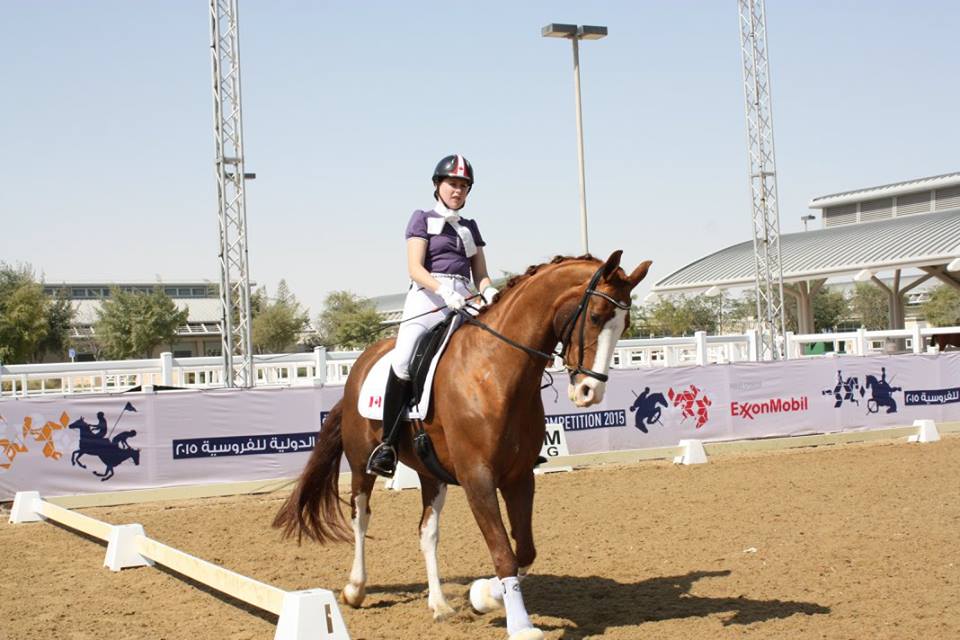 Flying high at CHI Al Shaqab, Qatar.
It all started very early in the morning last Monday. My new SuperGroom, Carina Garnham and my mother set off with Double Agent (Darcy) in our little lorry to Amsterdam for the first leg of her journey to the Middle East.
Darcy is an expert traveller, very cool about everything. She arrived at the Horse Hotel ready to fly out Tuesday morning. None of us had ever flown horses before so it was a bit nerve-racking. I was staying the night down near Heathrow as I flew out to Doha that morning. I think I had the easier job, just getting myself on a plane! Darcy wasn't at all worried by the experience of flying.
The airport experience in Doha was amazing for me! I was greeted immediately off the plane by a Qatar Airways member of staff. Then me and the other riders on the flight were whisked through immigration in the comfort of the VIP lounge! My luggage was presented to me! This was fantastic as probably the hardest thing for me at an airport is grabbing my case off the carousel and managing to pull it on to the ground.
Doha is a city rising out of the desert sands. There are literally thousands of new buildings – skyscrapers in various shapes and sizes and lots of accommodation, many in readiness for the Football World Cup. There are 11 new soccer stadiums being built. The new museum has roofs like sand dunes and will be stunning when finished. It was interesting that the road building goes on 24 hours a day except on their holy day Friday.
Mary Longden, our team coach, had arrived earlier that day and made Darcy a beautiful bed ready and got hay and carrots organised. The stable managers were super.
It took several hours for the horses' flight to get through vet checks etc. They arrived at 11.20 and Darcy came marching around the corner with a gentleman hanging on to her. He did not give her to me as she was towing him into her stable. Carina arrived about 20 minutes later (they had left the grooms in the bus outside the entrance for some reason). Darcy was hungry, and busting for a pee! We kept her travelling boots on, I use Professional's Choice VenTECH All Purpose Combo wraps as they are really soft, light and supportive, until she had a roll.
Carina gave Darcy a good 20 minute walk around the stables just to stretch her legs and get the circulation going. Afterwards, she had some feed. I had packed her TopSpec feeds into individual portions in plastic bags to make things easier. It is good to keep things as close to 'normal' as possible. The grooms hotel was 20 metres from our stable so Carina checked Darcy at 3 a.m.
The taxis were an experience! It looked as if there was no driver. When they are queuing, the drivers put their seats down and come abruptly awake when the valet knocks on their windows. This doesn't stop them driving at break neck speed. Not a lot of braking!
I stayed at the Ritz Carlton hotel, in absolute luxury.
Al Shaqab has an Arab stud at one end of the property that can access the competition facilities. There are two huge stadia; one indoor and one technically outdoor but with covered seating, an all-weather gallop track, 3 indoor arenas, 2 outdoor arenas and lunge and grazing areas. There were shops, a jumper's lounge, a rider's seating pavilion, the rider's lounge, press areas, show offices as well as spectator café. A totally, crazily-huge, spectacular venue!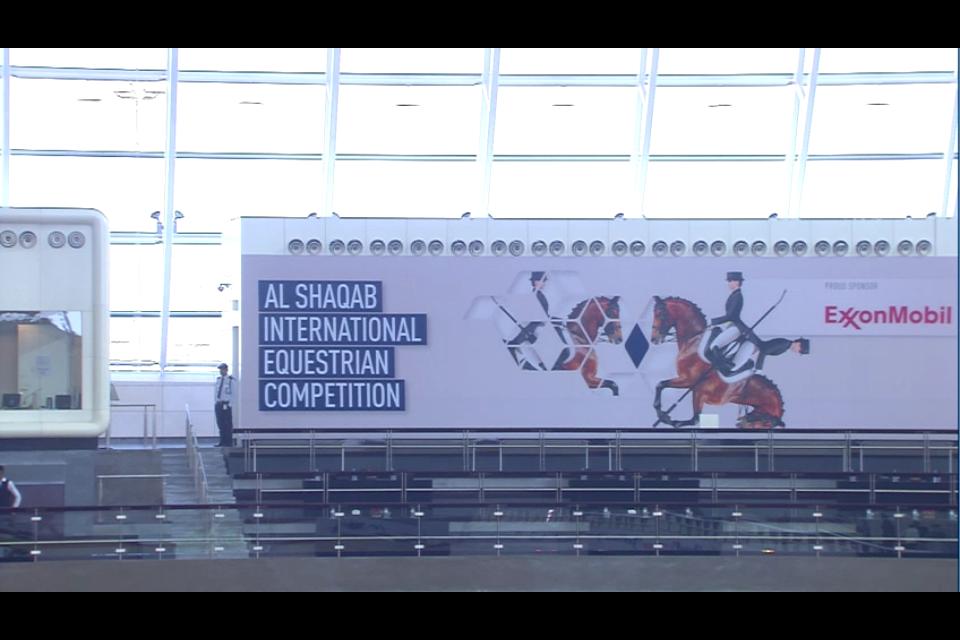 The breakfast at the Ritz Carlton is amazing! Then the scary drive to the venue! I rode Darcy to give her a little bit of stretch. My first plan was to go around the oval sand track (500 metres long) but Darcy was clearly on her toes. There were Arab babies in yards nearby. Darcy was not quite sure she wanted to go up the rubber brick track that ran beside the sand track. We followed Claudia Fassaert and her seasoned Grand Prix horse, Donnerfee, up the path. Darcy worked well, we did her 'Yoga' walk work and had a gentle canter around to freshen up. We then waited for Donnerfee to finish and the two horses went back to the stables.
Due to all the travelling, Darcy lost quite a bit of weight so I had brought an adjustable half-pad to go under her Bliss of London Paramour saddle. This saddle fits so well at home but the drastic changes of shape that happen on journeys are always difficult to predict. I love my Paramour and with some careful shimming up it rode beautifully.
Carina did a fantastic job, cleaning Darcy up and plaiting her ready for the trot up. We took lots of photos for Carina to show her assessors for the NVQ scheme all the amazing things she has been doing.
Being Para, Carina, my groom does the trot up, so it is a nervous time! Both Carina and Darcy did great! They looked super and Darcy did very pointy toes for the judges.
Then we had a couple of hours gap till Grade 3′s turn to use the competition arena for familiarisation. It was Darcy's first time working in air-conditioned surroundings and the temperature variations tickled her nose. She eventually got used to this sensation after a lot of snuffling.
The arena was beautifully presented and the surfaces, which had been imported from the UK, were excellent. The equipment used to maintain the arena surfaces were 'state of the art'. Darcy wasn't too sure about the 'red carpet' but nothing else worried her. It was her first time experiencing TV cameras so close and moving so much.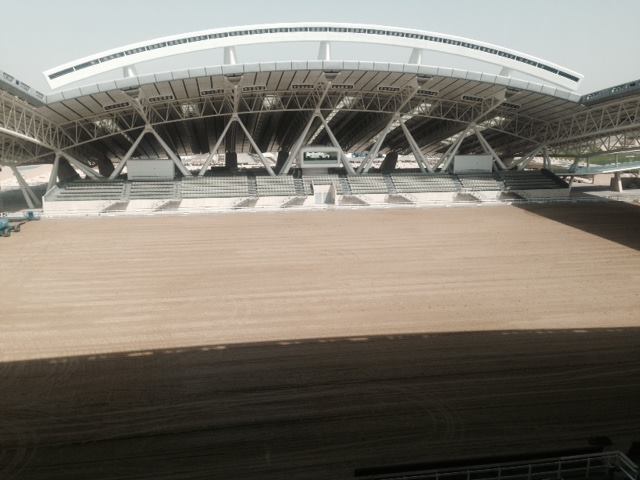 I am so pleased with the way the 2 set tests went. My bucket list for the show was not to come last in grade 3, the predicted placing from the FEI Rankings list, and to score over 70% in the Team test – we managed both! Both the German judge and the Dutch judge loved Darcy especially as she is so young to be competing at this level. Dr. Holtschmit made a point of congratulating me on her performance. Lots of people asked me about her breeding as she was so super.
The Freestyle is where I can really let loose! I thought about putting in flying changes as we have been playing with different patterns. I decided to keep it simple in the end. Darcy felt wonderful anyway and for once, I only got a bit in front of my music!!! One judge had us to win but we finished second. So much more to come, especially when Darcy gets her own music and floorplan rather than using my WEG one from Dino. We finished second in every one of our tests, against the medallists from last year's World Equestrian Games. I couldn't have asked for more from Darcy. She proved we are on the right tracks and performed her socks off.
While most of the Europeans rushed back to the swimming pool and sun bathing, I spent my spare time watching the Grand Prix horses and riders training and competing. Dressage is what I love, I can quite literally watch it all day, every day. There is so much to learn!
It had been such a fabulous experience. I had a terrible journey back as I was sick before getting on the plane but recovered now, thank goodness. I was so pleased to see my dog again. Darcy flew well into Amsterdam and then rested before trucking back to the UK last night.
My fellow Bliss of London sponsored rider, Frank Hosmar, had a fantastic show with Alphaville, winning all the Grade 4 classes and as part of the winning Dutch team.
I really hope that CHI Al Shaqab was as much a success for the organisers as it was a pleasure for us as competitiors and that they will invite us again next year! Fingers crossed!!!
Back