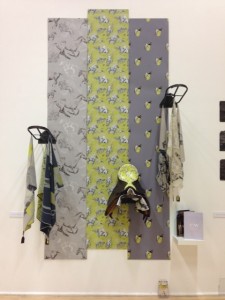 We frequently receive requests and orders for commissioned saddles and accessories that are out of the ordinary, and of course we are only too pleased to work with people who have a dream of creating their own unique items. This is why we were delighted to be contacted in February this year by Ellie Walton who needed a little Bliss help with an amazing challenge that she had set herself. "I am a 3rd year textiles student of Nottingham Trent University who specialises in screen printing. Furthermore, when not doing uni work I am a keen horse rider and owner, which is where thetheme of my final year project has originated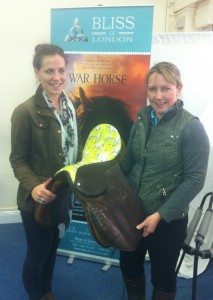 from." "Concept for final project/degree show:
I am planning to create a variety of screen printed patterns inspired by the use of horses within our society and how they have been affected by urbanisation. I really want to capture the strength and great power of the horse as well as their elegance and grace through a mixture of repeat and placement patterns. The journey through my collection will start very nostalgic and subtle, reflecting my childhood with horses, and then it will progress into more dynamic and dramatic motifs/patterns as horses merge into urban life and the structure of buildings interact with the horses, reflecting their strength."
"My initial idea is to put a piece or hand printed leather or fabric back into a seat of an old saddle I have, so I am placing my final prints back into my inspirational source. I wanted my fabric to stand out and be displayed I an inventive way when I take my work to degree shows in the summer.
I am at the beginning of my project at the moment, so I am at the initial drawing stage. The deadline for my project is the 22nd May and my degree shows are through June. I am also very keen to exhibit my work at the new designers show in London. I am aware that this is a small time frame and that your saddles are in high demand and you are very busy, so i am willing to work around you and try a make a final print as soon as possible for my deadlines to be met".
How could we resist helping out from such a heart felt and passionate plea?
These were some of the initial sketch ideas which were produced on fabric, in order to test the colours, the clear areas of the fabric were burnt out to create transparent image.
Initially Ellie wanted to use her own designs on a full seat of an old Bliss saddle. However it was decided that it would be best if Bliss did the printing as well as the re-seating. Ellie advised us "I have spoken to my print technician and I think for a more professional finish I feel I would like you to help me with the leather printing instead of printing them myself as I think the pigment I would use would crack when stretched to fit the" saddle" .
Printing onto leather is not new to us at Bliss and has become quite popular recently as we have used various nations flags on the back cantle pieces of our saddles, however using this technique over a full seat was something very different and certainly needed testing.
With a May deadline to meet and designs to be finalised and testing to be done, Ellie put pen to paper and set about producing some fabulous designs, one of which was chosen and we converted to print as our trial seat. Unfortunately it was soon obvious that the scale and complexity of this initial design was not going to work on a saddle seat.
Armed with the knowledge that she had learned from version 1 Ellie got about redesigning a new seat design.
Our primary concern had always been whether the image would stretch and distort when 'blocked' over the seat so n order to test this thoroughly it required a new tree to be strained, foamed and blocked using the initial print this gave Ellie 2 weeks to put a new design together, but wow, it was worth it.
We were much happier with the repeat in this design as it gave us more scope to centralise key aspects on the seat when blocking. The skill involved in setting a seat is being able to take a flat piece of leather and mould it over a complicated 3 dimensional object in a way that the leather is stretched sufficiently enough to remove all creases.
This is a task in itself but when presented with a symmetrical design, avoiding unevenness was off the essence.
We were thrilled with the final results and even managed to match up the new leather on the skirts to the old original saddle leather.
Last week Ellie came in to collect her finished project and we also got the chance to see some of her other incredible pieces of textiles, wallpapers and scarves just some, for her show.
Ellie "I took my saddle in today and people are amazed by it! I'm very proud!"
We wish Ellie all the very best for her degree show, she certainly has a natural talent and expresses a wonderful refreshing way of capturing our beloved equines. Perhaps you fancy a uniquely stylised saddle? We are sure Ellie is ready to take commissions!
To view more of Ellie's fabulous work check out www.eleanorwalton.moonfruit.com
Back